Publisher Gersy Ifeanyi Ejimofo reflects on the panel discussion held at the Goethe Institut London earlier this year.
"The Good Immigrant" is an anthology of essays aiming to challenge and redefine the stereotypical narratives surrounding immigrants, features personal essays from 21 British Black, Asian and minority ethnic writers who share their experiences, perspectives, and insights on topics like identity, culture, race, and belonging. "Eure Heimat ist unser Albtraum" is a collection of essays opposing the idea of "Heimat" – homeland – and an outlet for 14 contemporary authors to comment on how Germany is "othering" an entire segment of its population.
From left to right: Hengameh Yaghoobifarah, Fatma Aydemir, Nikesh Shukla, Chimene Suleyman, Musa Okwonga, Leila Essa.
The conversation between the writers all well established and noted for making significant contributions to the realm of diversity and inclusion in literature namely; Nikesh Shukla, a prominent contemporary voice on diversity and inclusion in the arts in the UK, Musa Okwonga, broadcaster, and writer whose poetry has been described as 'intimate and erudite, passionate and beautiful', Chimene Suleyman, who regularly writes on the politics of race and immigration, Hengameh Yaghoobifarah, a journalist and writer who has attracted as much solidarity as outrage in Germany and Fatma Aydemir, described as one of Europe's leading literary voices and a chronicler of diasporic experiences, was deftly moderated by Leila Essa and what unfolded was an emotionally charged account of the genesis of the two collections, the impact they had and thoughts on the future.
The evening kicked off with Nikesh, the editor behind The Good Immigrant, expressing his frustration with the negative portrayal of immigrants in the UK. He highlights how immigrants often face a perception of being "bad" until they demonstrate their value to society pointing out in a humorous manner, examples of what it seemly takes to be a "good" immigrant such as winning the British Bake Off or earning an Olympic medal.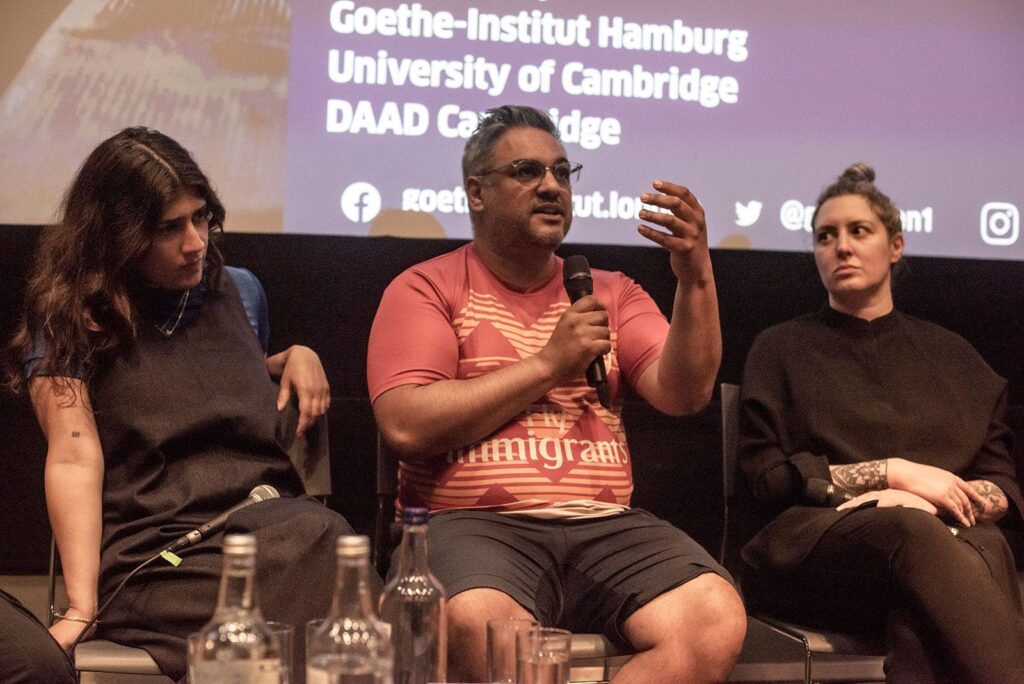 References undoubtedly pointing to Nadiya Jamir Hussain, who gained media fame after winning the sixth series of BBC's The Great British Bake Off and Sir Mo Farah, the most successful British track athlete in modern Olympic Games history, each making it on the Queens honours list with titles of MBE and CBE denoting their membership in the distinguished Most Excellent Order of the British Empire. An honour that Nikesh himself turned down.
He also discusses his aspiration to promote greater diversity in UK publishing, refuting the presumption that there would be no audience for it. On sharing his thoughts with fellow writer and friend Musa, the aptly delivered response "If you don't like someone else's story, then write your own" seemed to provide the motivation Nikesh needed to set out changing that narrative through the publication of The Good Immigrant UK, following by a US edition co-edited by Chimene Suleyman and one of the subsequent inspirations for the German anthology 'Eure Heimat is unser Albtraum'.
Translated into English as 'Your Homeland is our Nightmare', editors Hengameh and Fatma in turn sought to deconstruct the concept of 'Heimat' in the light of the renaming of Germany's Interior Ministry to Heimat Ministerium. (A seemly innocent word on its own yet within the context of German culture one that can have a polarizing effect. Evoking a sense of nostalgia, cultural identity, and an emotional connection to one's homeland that was once heavily exploited by a particular form of nationalism used to mobilize and unite the German people under a shared identity whilst simultaneously persecuting those it considered outsiders. Serving as a reminder of the crucial role context plays in the realm of translation!)
Bringing together different voices and literary styles from both established and emerging writers that have an urgency to their tone, the essays have certainly made it possible to share how isolating feelings of exclusion can be; "You are alone and unable to talk about it", for such emotions to be validated and to provide a space for much needed conversations to happen.
Both anthologies have gone on to surpass all sales expectations, receiving critical acclaim and achieving commercial success far beyond what was anticipated. Its impact far and wide is undeniable and it was heartwarming to see panellists' appreciation for the transformative effect it has had on their journeys to date.
However, it's evident that the journey has also proven emotionally exhausting, accompanied by an underlying feeling of frustration.
Fatma, tired of speaking about emotions and given the trajectory of where things are going politically, could imagine a future edition that steps back from the vulnerability discourse with a tone that is angrier perhaps even more resolute in nature.
Nikesh's mood is somewhat more philosophical, contemplating the use of humour to get the message across and Musa urges the audience to remain politically curious, concerned that Germany has stopped listening to its most vulnerable citizens and alarmed that "there is still no discourse around the horrifying rise of Antisemitism in Germany".
Chimene talks about the need to pause and, despite an acknowledgment of how important the work is, to fill one's emotional tank by getting involved in projects refreshing absent of these heavy themes. A sentiment shared by all with Musa finding solace in travelling and poetry, Nikesh working on the Spiderman India Marvel series and Fatma celebrating her latest play, a reimagination of the text- Faust in what has been described as a contemporary feminist overwrite of a Goethe Classic.
If you don't like someone else's story, then write your own

Chinua Achebe
As the evening draws to a close, I cannot help but see the footprint of Chinua Achebe's frequently quoted aphorism, "If you don't like someone else's story, then write your own," as an encouraging catalyst for numerous literary endeavours. I applaud the impact the editors continue to make with their essay collections and amidst the need to pause, also spot an unintended yet impactful continuation of this form of 'literary activism'. Namely the resolute commitment to pursue creative expression and artistic freedom beyond any deliberate or unintended limitation one is confronted with.
All photos © Goethe-Institut | Pau Ros
Gersy is the Founder of Digitalback Books, a virtual library service offering instant and affordable access to a curated Africa-centric collection of titles from publishers around the world. In 2020, she launched DAS Editions, a new publishing imprint that focuses on the republishing of classic African literature alongside publishing literature in translation.
Gersy was a finalist for the Etisalat Prize for Innovation in 2015, recognised as one of The Bookseller Rising Stars in 2017 and a FutureBook 40 in 2018.
---
Find out about future Goethe Institut London events here