New Books in German promotes German-language literature for translation into English in the UK, USA, and beyond. We feature recommendations of the best new fiction and non-fiction titles from Austria, Germany, and Switzerland. We publish articles and information on books, authors, and those who translate or work with them.
On the website you can explore exciting and accomplished contemporary German-language literature and non-fiction. Busy editors can find and share information on the latest books deemed suitable for an international audience. German-language publishers can bring their books to a wider audience, with the endorsement that being selected by New Books in German brings.
Twice a year we convene expert juries in the UK and US to select books submitted to us by German-language publishers. Those that we go on to recommend here have been judged to have a high chance of success in an English-speaking market.
New Books in German took shape at a seminar held in London in 1996. Members of the book trade met to discuss why so few books were being translated from German into English, and what might be done about this. It was clear that readers of English were being denied access to some of the best books in a variety of fields. You can read an interview with Tanja Howarth, one of the founders of NBG here.
Who we are
Sarah Hemens
Sarah is the Project Director of New Books in German.
Sarah previously worked in grant writing and communications in human rights, working with donors in Europe, the US and Africa and managing a publications programme. Sarah is also Vice-Chair of Anti-Slavery International.
The last translations I read: Olga Grjasnowa's City of Jasmine (in Katy Derbyshire's wonderful translation) continues to occupy my mind. I also enjoyed An Inventory of Losses by Judith Schalansky (tr. Jackie Smith).
Looking forward to reading: Love in Five Acts by Daniela Krien (tr. Jamie Bulloch). Isobel Bogdan's The Peacock (tr. Annie Rutherford also looks brilliant.
Sheridan Marshall
Sheridan is our Editorial Consultant.
She has worked on our editorial team for ten years, and also does freelance editorial and translation work.
The last translations I read: I was very pleased to spot Katharina Hagena's, The Taste of Apple Seeds (tr.Jamie Bulloch), on the display table in my local library when I was there in mid-March 2020, panic-borrowing as many books as possible before lockdown started. We featured this book during my early involvement with NBG and I had never got round to reading it, but it proved to be a jewel in my lockdown reading. I recommended Robert Menasse's The Capital, (tr. Jamie Bulloch) to my book club recently and we enjoyed discussing its satirical take on the EU as the Brexit saga rumbles on.
Translations I am looking forward to reading: Elizabeth Lauffer's translation of Annette Hess's The German House & Katy Derbyshire's translation of Sandra Hoffman's Paula.
Sarah Rimmington
Sarah is a freelance translator, reviewer and copy editor and is our proofreader and copy editor.

The last translations I read: Sandra Hoffmann's Paula (a luminous translation by Katy Derbyshire, and a work I was lucky enough to get to work on at the British Centre for Literary Translation summer school in 2018); and 1913: The Year Before the Storm by Florian Illies (tr. Shaun Whiteside and Jamie Lee Searle), a wide-ranging and unconventional artistic portrait of a portentous 12-months.

Translations I am looking forward to reading: So many! At the top of my current pile are Dark Satellites by Clemens Meyer (tr. Katy Derbyshire) and The Great Homecoming (tr. Jamie Lee Searle).
Lúcia Collischonn
Lúcia is our intern.
She is completing a PhD in Translation Studies at the University of Warwick.
The last book I read in German: Herkunft, by Saša Stanišić.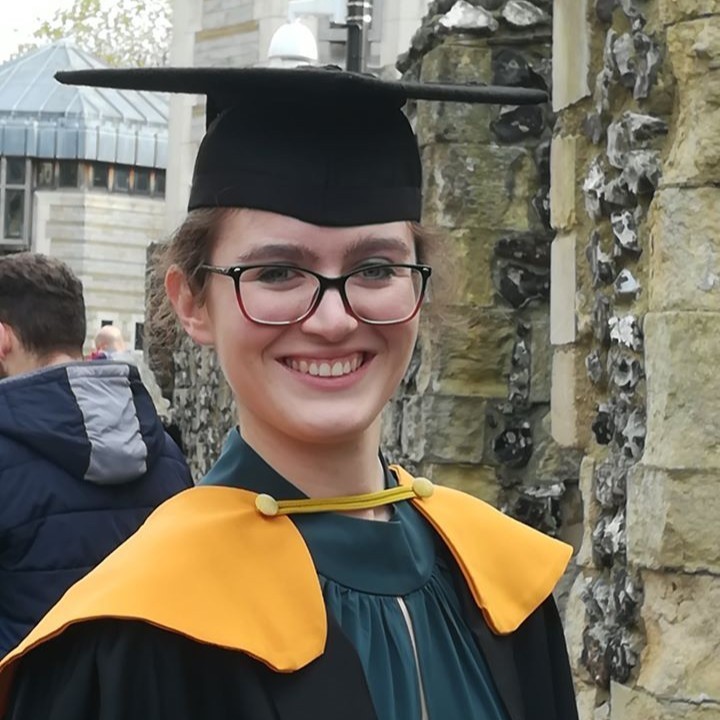 Maxine Hart
Maxine Hart is our research volunteer.
She finished her BA in German and History in 2017 and has since worked on two translation projects.
I enjoyed Lottie Fyfe's excerpt of Dark Green Almost Black from Mareike Fallwickl's Dunkelgrün fast schwarz in the recent edition of No Man's Land.
I'm hoping 2021 will be the year I finally sit down and read Die Zwerge by Marcus Heitz.
NBG Assessors
Our assessors help our juries to evaluate the German-language submissions we receive.
Steph Morris
Steph Morris has been a regular at NBG editorial meetings for ten years.
He is a writer and translator, see steph-morris.com.
Books in German I've recently enjoyed include Kristof Magnusson's Ein Mann der Kunst, a tale of art-world excesses, and Manja Präkels' Als ich mit Hitler Schnappskirschen aß, about small-town far-right terror in post-wall East Germany.
I just read Matthias Jügler's Die Verlassenen for NBG and was totally absorbed, and I'm looking forward to Lukas Hartmann's Schattentanz and Flavio Steimann's Krumholz.
Some NBG choices not yet taken up, which I really think would work well in English and would love to translate include: Julia Weber Immer ist alles schön, Christoph Hein Verwirrniss and Ilsa Barea-Kulcsar, Telefónica.
Jamie Lee Searle
Jamie Lee Searle is a translator from German and Portuguese. She is a co-founder of the Emerging Translators Network and has read books for New Books in German since 2007. Her latest translations include Urs Faes' Twelve Nights (Harvill Secker, 2020) and Anna Kim's The Great Homecoming (Granta, 2020).
Looking forward to reading: An Inventory of Losses by Judith Schalansky, translated by Jackie Smith, is high on my TBR list, as is Daughters by Lucy Fricke, translated by Sinead Crowe and published by the exciting new imprint V&Q Books, launched by Katy Derbyshire.
A book I'd like to translate: Die Goldene Stadt by Sabrina Janesch, a spellbinding fictionalized account of the life of 19th century German explorer Augusto R. Berns and his adventures in Peru – a vibrant, wonderful story that's held me in its grip since I first read it a few years ago.
Caroline Waight
Caroline Waight is an award-winning literary translator working from German and Danish. She has translated a wide range of fiction and non-fiction, with recent publications including The Chestnut Man (Penguin, 2019), Agatha (Sceptre, 2019) and Island (Pushkin Press, 2021). She lives and works near London.

The last translations I have read: Limonov by Emmanuel Carrère (tr. John Lambert). I read The Kingdom before that (same translator), and if I spoke French I'd probably read everything else Carrère has written too. I'm mildly obsessed.
Looking forward to reading: Jana Scheerer, Das Meer in meinem Zimmer. I've just translated another book about the North Sea coast, so this one immediately piqued my interest.
Shaun Whiteside
Shaun Whiteside is a translator from German, French, Italian and Dutch. His most recent translations from German include To Die in Spring by Ralf Rothmann and Time of the Magicians by Wolfram Eilenberger. He lives in London.
New Books in German juries
Our juries meet twice a year to consider each book submitted by German-language publishers. We are supported in this work by research done by a small team of book assessors.
UK jury
Core members of the UK jury are:
David Kilian Beck, Head of Culture, Embassy of Switzerland
Jamie Bulloch, Translator
Sarah Harrington Hemens, Director, New Books in German
Tanja Howarth, Tanja Howarth Literary Agency
Annemarie Goodridge, Information Officer, Goethe Institut London
Sheridan Marshall, Editorial Consultant, New Books in German
Alexandra Wachek, Music, Theatre & Literature Project Manager, Austrian Cultural Forum London
At each meeting we invite additional jury members drawn from UK editors, literary scouts, booksellers, and translators.
US jury
Cecile Barendsma, CB Literary Agency
Peter Blackstock, Grove Atlantic
Shelley Frisch,Translator
Markus Hoffmann, Regal Hoffmann & Associations
Tess Lewis, Translator
Barbara Perlmutter, consultant, formerly S. Fischer Verlag
Bettina Schrewe, US Scout
Karin Schulze, Abrams
Riky Stock, Managing Director, NorthSouth Books
Christine Swedowsky, World Editions
Dean Whiteside, Goethe-Institut New York
Michael Z. Wise, New Vessel Press
Steering Committee & Funding
The Steering Committee guides the direction of our work and scrutinises management and finances.
David Kilian Beck, Head of Culture, Embassy of Switzerland
Waltraud Dennhardt-Herzog, Director, Austrian Cultural Forum
Susanne Frane, Deputy Head of the Culture Section, German Embassy London
Sarah Harrington Hemens, NBG Project Director
Tanja Howarth, Tanja Howarth Literary Agency
Sheridan Marshall, NBG Editorial Consultant
Katharina von Ruckteschell-Katte, Director, Head of the London Office and the Northwestern Europe Region, Goethe-Institut
Eva Stensrud, Pro Helvetia
Riky Stock, Vice President, Frankfurt Book Fair New York
Robert Stocker, Head of literature and publishing, libraries, Federal Ministry for Art, Culture, Public Service and Sport, The Austrian Federal Government
Funding
New Books in German receives financial and/or in-kind support from
the Austrian Cultural Forum London
the Austrian Federal Ministry for Art, Culture, Public Service and Sport
the Frankfurt Book Fair
the Frankfurt Book Fair New York
the German Embassy in the UK
the Goethe-Institut London
the Swiss Arts Council Pro Helvetia
the Embassy of Switzerland in the UK
Once a book has been recommended on the site, we ask the German publisher of the book to pay a fee. These fees total around a fifth of our overall income and go towards running the submissions process, adjudicating and profiling the books.
Internships
We recruit two interns per year, one for the Spring selection round (recruited in October each year) and one for the Autumn selection round (recruited in April each year).
Read more about the role and how to apply.
Please do not send speculative CVs as we cannot keep these on file.
Equality, diversity and inclusion: statement of intent
New Books in German is committed to encouraging equality, diversity, and inclusion in our work, and to eliminating unlawful discrimination.
We aim to promote a culture that recognises that people from different backgrounds and experiences can bring valuable insights to the project and enhance the way we work.
During 2021 we will be thinking more about what this means across all areas of our work. We will publish any further information here.
Disclaimer & privacy policy
Please read our disclaimer and privacy policy here before using this website.